W e are Monmouth County's choice for exceptional Bar and Bat Mitzvah floral design services such as Mitzvah flower arraignments and unique floral centerpieces. If you are looking for the best in Bar or Bat Mitzvah flowers, our specialized team of muralists, portrait artists, decor and floral designers can take your ideas and turn them into a celebration that will never be forgotten!
Monmouth County Bar & Bat Mitzvah Floral Arrangement Services
Why does Monmouth County choose Marquis Florals by Kim for their Bar and Bat Mitzvah flower arraignment needs? Two answers, our exceptional customer service and unmatched design experience. Our design department is continually updating their skills and knowledge to be able to offer you the latest in cutting edge designs and techniques. And throughout our 30 plus years of Bar and Bat Mitzvah floral design experience, we have been able to collaborate with a seemingly endless reserve of resources and have maintained firm connections with the very best flower farms so we can provide you with the freshest designs with unsurpassed quality. If you want to know more, check out our testimonials page; most of our new clients have been recommended to us by previous clients!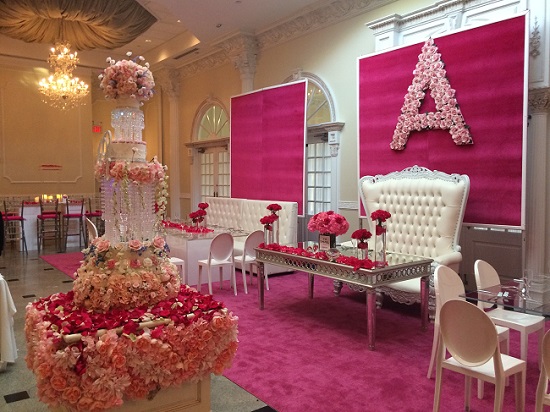 What are some individual elements that we can provide? When you have your free personalized consultation with Marquis Florals by Kim, you will find that you do not need to purchase an entire theme party for your Bar or Bat Mitzvah. We can also furnish your event with individual components as needed. For example, we can offer you.
* Ceremony Flowers
* Favors
* Lighting
* Balloons
* Temple Details
* Programs
* Place Cards
* Custom Tabletop Floral Design
…and so much more!
Have any questions? Contact Us today!