Marquis Florals by Kim has had the opportunity to work with a wide variety of vendors, whether we're planning or doing floral designs for weddings, Bar or Bat Mitzvahs, Sweet 16s, corporate events, or social occasions. Here are just a few of the event professionals we recommend to our clients to help complete their big day.
Jewelry
Diamond Castle
167 Route 9 South, Marlboro, NJ
Tel: (732) 617-2168
Online: www.diamondcastle.com
Specializing in engagement rings and wedding bands, Diamond Castle has more than 2,000 designs to choose from, or you can create your own custom design. They also offer a wide range of jewelry for every budget, from simple silver earrings to exquisite diamond necklaces. Designer brands include Pandora, Pianegonda, Movado, Concord, and more. This store boasts over 12,000 square feet of space dedicated to jewelry – New Jersey's largest independent jeweler – so, you're sure to find just the item you're looking for!
Bridal Gowns & Evening Wear
Castle Couture
167 Route 9 South, Marlboro, NJ
Tel: (732) 617-1414
Online: www.castlecouturenj.com
Beautiful designer bridal gowns, bridesmaid dresses, and mother-of-the-bride dresses for any wedding, from glamorous to sophisticated. Castle Couture also carries a large selection of designer evening wear, from cocktail dresses to formal gowns. And complete your wedding or special occasion look by choosing from a wide assortment of accessories, including shoes, handbags, tiaras, jewelry, veils, gloves, wraps, and more.
Wedding Information
The Knot
Online: www.theknot.com
One of the first stops for planning your wedding! Featuring local bridal guides for finding vendors in your area.
Accessories
Bridal Services
Keepsake Floral Inc.
Nationwide service
Tel: (800) 616-KEEP (5337)
Online: www.keepsakefloral.com
Want to preserve your actual bouquet from your special day? Keepsake Floral will preserve the bouquet you carry on your special day and create a memorable keepsake for you to last a lifetime!
Caterers
Bernstein and Friedman
For decades, the Bernstein and Friedman families have served the greater New York metropolitan Jewish community with elegant service and unparalleled cuisine. Four New Jersey locations:
Classical Caterers at B'nai Tikvah, North Brunswick: www.bnaitikvah.org
Donal Caterers at Marlboro Jewish Center, Marlboro: www.mjcnj.com
Exquisite Affairs at Temple Beth Ahm, Springfield: www.exquisiteaffairs.com
Northern Valley Affairs Caterers at Temple Emmanuel, Closter:www.northernvalleyaffairs.com
Richfield Regency
412 Bloomfield Avenue
Verona, NJ
Tel: (973) 239-6234
Online: www.richfieldregency.com
You can have the elegance of a Richfield Regency catered affair right in your own backyard. Whether it's a wedding, anniversary, bar/bat mitzvah, social event, or corporate party, they will pitch their off-premise catering tent anywhere, including homes, offices, yachts, or temples to accommodate any size affair from 75 to 1,000 guests.
Signature Creations
628 West Street, Linden, NJ
Tel: (908) 486-7889
Online: www.signaturecreationscaterers.com
Signature Creations Caterers is an off-premises caterer, providing fine quality Kosher and traditional fine cuisine catering. Signature Creations is recognized for our quality, innovative menus, and adherence to details and presentation.
Custom Cake Design
Sweet, Sweet Sue's
Staten Island, NY
Tel: (718) 966-7852
Online: www.sweetsweetsues.com and www.newjerseycakes.com
Independently-owned and home-based, Sue uses only the finest ingredients in each of her creations. Every cake is unique and custom designed to your specifications. Not only are the cakes gorgeous, but they taste as good as they look! Serving Staten Island, Manhattan, central to northern New Jersey, and western to central Long Island.
Hair & Makeup
Jeanine Mangan Make-up Designs
Manalapan, NJ
Tel: (609) 213-4884
Online: www.jmmakeupdesigns.com
A make-up artist for 14 years in the television and bridal industries, Jeanine Mangan's portfolio includes network anchors, reporters and countless famous faces. Contact her to schedule a consultation.
Dawn Rose Makeup artistry and hair
Matawan, NJ
Tal: (908) 601-6659
www.DawnRoseMakeupArtistry.com
Invitations
Black Tie Optional
Nancy Silver Owner of Black Tie Optional, the Invitations & Announcements-Retail
6 Marc Road
West Long Branch, NJ 077641113
Phone: (732) 571-3030
Email: blacktieoptionalinvitations@gmail.com
Lori Mausner Designs
By appointment in Holmdel, NJ
Tel: (732) 335-4002
Online: www.Lmdesigns.biz
Lori Mausner Designs offers beautiful selections of personalized invitations for any and all occasions. Calligraphy services, personalized favors, and accessories available.
Locations
Crystal Plaza
305 West Northfield Road, Livingston, NJ
Tel: (973) 992-8100
Online: www.crystalplaza.com
By hosting one affair at a time, The Crystal Plaza offers a personalized experience for your special occasion.
Eagle Oaks Country Club
20 Shore Oaks Drive, Farmingdale, NJ
Tel: (732) 938-9696
Online: www.eagleoaks.com
Whether it is your wedding, Bar Mitzvah, private dinner party, or golf outing, the casual elegance and ambiance of the clubhouse is sure to produce a lasting impression upon your guests.
Radisson Hotel Freehold
50 Gibson Place, Freehold, NJ
Tel: (732) 780-3400
Online: www.radisson.com/freeholdnj
With the stunning Crystal and Emerald Ballrooms, the Radisson Hotel in Freehold is ideal for your next occasion.
Sterling Gardens
227 Freneau Avenue (Route 79), Matawan, NJ
Tel: (732) 583-9200
Online: www.sterlinggardensnj.com
Specializing in weddings, Bar and Bat Mitzvahs, Sweet Sixteens, and social events, Sterling Gardens has the ability to accommodate groups from 50-240. With beautiful outdoor gardens, you will be creating memories to last a lifetime. We only accommodate one wedding at a time for a more personalized experience.
Music & DJs
Mission Dance
7 Broadway, Suite 2, Freehold, NJ
Tel: (732) 845-1444
Online: www.missiondance.com
For years, Mission Dance Entertainment has been entertaining the NJ/NY metropolitan area for numerous occasions and special events, including Bar/Bat Mitzvahs, Sweet Sixteens, graduation parties, weddings, and more. Mission Dance Entertainment has experienced bands and DJs to transform any party into a high-energy event you and your guests will remember.
Photography
Unlimited Exposures
285 Gordons Corner Road, Manalapan, NJ
Tel: (732) 617-1588
Online: www.unlimitedexposures.com
With over 26 years of experience, Unlimited Exposures takes pride in preserving your precious memories, capturing every expression and all of the emotions. They have been honored by their clients by frequently being voted the "best of" photography in publications such as The Knot and The Asbury Park Press.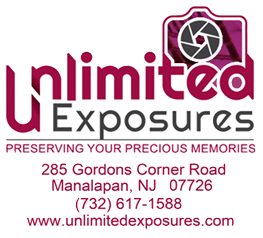 Religious Services and Ceremonies
Creative Wedding Ceremonies
2174 Morris Avenue, Union, NJ
Tel: (908) 688-8858
Online: www.creativeceremonies.com
Carole Reider believes each couple is unique and their wedding should be as unique as the couple. She assembles a variety of ceremonies to truly make your wedding day Your Special Day.
Dennis Craig Tobin
21 Colgate Road, Maplewood, NJ
Tel: (973) 762-0877
Email:rabbidennistobin@aol.com
Rabbi and Cantor.
Spas
Avanti Day Resort
345 Route 9 South, Manalapan, NJ
Tel: (732) 780-0222
Online: www.avantidayresort.com
Avanti Day Resort offers a comfortable and unique atmosphere for beauty and wellness. At Avanti, you will experience the ultimate in relaxation and rejuvenation, nourishing both the body and soul!
Transportation
First Class Limousine
187 US Route 9, Englishtown, NJ
Tel: (732) 972-3200, (800) 925-0520
Online: www.ridefirstclass.com
Provides a host of chauffeur-driven limo services to corporations and individual travelers throughout the tri-state area. You can always count on a pristine vehicle arriving on time, with professional service.